Our Culture
What's it like to work here? Dynamic and fast-paced. At Kroll, we celebrate ambition, encourage collaboration and value a strong culture above everything. This is a company with an unwavering moral compass and a commitment to being a good corporate citizen.
You'll find a welcoming and tight-knit team of optimists, thinkers and problem-solvers: people with the skills, knowledge and diverse backgrounds to power sound decisions for our clients. At GBS, you'll collaborate with global teams both virtually and in-person on exciting projects and get introduced to a dynamic ecosystem of people, learning, skills and insights that will stay with you throughout your career.
Our Social Committee ensures there's never a dull day at GBS, with a range of fun activities, happy hours, offsites and team dinners planned at regular intervals.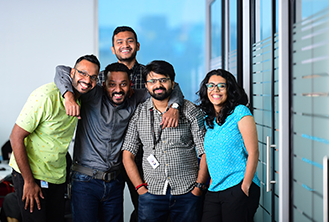 Elevating Your Career
This is an environment that's dedicated to learning and development—from our initial technical training program for entry-level hires, Kroll University (DPU), and our Promote School, to our advanced technical modules for more seasoned employees. We provide opportunities to grow vertically (fast-tracking high performers) and horizontally (via our internal mobility program and extended outbound secondments).

Our Office
Our Mumbai office is a melting pot of some of the finest and diverse talent in the industry. Located in Bandra Kurla Complex, the Mumbai office houses our internal firm services and client service teams that strategically support our offices worldwide.
Our Office
Our second center, based in Hyderabad, is where client service teams support our Property Tax, Compliance Risk and Diligence, and Real Estate VAS businesses. Hyderabad is also home to our state-of-the-art Automation and Innovation Center, where we focus on software development, automation and technology integration for our internal and client service functions.
Featured Jobs in Hyderabad
Career Areas
Discover a wide range of opportunities across all our industry-leading service lines.
GBS Client Service
You'll deliver seamless, high-quality, value-added support and exceptional client service to our teams worldwide. With a dedicated analyst model, you'll work on the end-to-end delivery of projects and solve some of the most complex financial challenges for our clients. Our investments in industry-leading learning and development initiatives such as, Kroll University and Promote School will enrich your career and provide an exceptional growth trajectory.
Internal Firm Services (IFS)
Your work will drive our operations and innovation—whether you join our brand custodians in marketing, the analytical minds within the Chief Revenue Office, the insightful team in Finance and Legal, the technologists in our Automation and Innovation Center or the talent stewards in Human Resources.